1:25 K-LINE Tissue Container|Tissue Box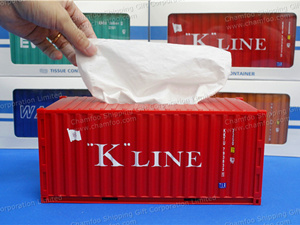 Product name: 1:25 K-LINE Tissue Container|Tissue Box
Material: ABS Plastic
Prototype: 20'GP DRY Container
Scale: 1:25
Specialty: Could be assembled & disassembled, suitable for most of the soft packing tissue in the market.
Dimension: L 25.00cm x W 12.00cm x H 11.00cm
Packing: Paper Box / PVC Window Box
What could be customized: Colour, logo, texts etc.
Documents we need: Letterings or photos of real container / Pantone or RAL colour code / Logo in vector graph format like *.ai, *.cdr, *.eps
MOQ: 300PC
The Tissue Container is another popular marine souvenir beside the Pen Container & Business Card Holder.
The tissue container is composed by several parts. It could be easily assembled while with some fun.
Putting a soft paper bag inside the container, covering with the removable top, youcould enjoy using it right away.
It's also a good idea to use it as a unique corporate giveaway item for your clients and it's definitely another new carrier for your business promotion and branding advisement.
Product Photos

Make-to-order
Copyright 2012 Micro Shipping Cultural Communication Co., Ltd. All Rights Reserved. 京ICP证130339号
TOP

Scan & follow us